It is a unique process to understand cloud technologies and start using them from point zero. You can find a chance to discover these technologies and join our journey with this blog post.
Why Is Cloud The "New Normal"?
Cloud Mindset reflects the ability to move from expensive maintenance of hardware, software, and services, to a hybrid cost-efficient version of infrastructure, platform and service. You can integrate your organization and your mindset to the cloud in order to catch up with today's technology. Who wouldn't want to be the first to discover innovations and be the pioneer in the technology world?
Before, After and The Future of Cloud
Companies had to store all their data and software on their own hard drives and servers because they didn't have any alternatives back then. The bigger company the more storage they needed and it means more cost, lower scalability at speed. Additionally, security of servers & data centers was also their responsibility to ensure without the cloud and besides the physical availability and maintenance.
In the cloud, you might simply think that we have a shared pool of computer resources at our disposal and when we need more resources, all we need is "demand". Provisioning resources immediately is easy peasy for the cloud since they are constantly working to provide capacity for their customers. You are not charged for resources you are not needed, that you shutdown or discard after you are done. It means you only pay for what you use and your cloud provider will take care of all the maintenance of the hardware, physical security and availability of data centers. Additionally, because your cloud providers have multiple data centers around the world in case of any bothersome issues you will be able to keep your safety in another location by multiple replication of your data.
For security issues cloud providers such as AWS have a shared responsibility model. According to this model you are responsible for the security in the cloud and AWS is responsible for security of the cloud. So you can continue to maintain your workloads without worrying about hardware, firmware and physical security.
What awaits us in the future? Obviously the power of cloud computing will continue to grow and ensure many benefits for both the host and the customer. Also cloud providers will continue to procure better security measures day by day to prevent any kind of attacks. Clearly all new updates will continue to satisfy ongoing maintenance.
How Do You Prefer To Manage Your Infrastructure?
One of the main steps of integrating the cloud world is regarding how to manage your infrastructure. There are many ways to manage your infrastructure like on premise, cloud-based infrastructures, public/private/hybrid cloud, etc. Here I want to call your attention to the most cost effective and easy way of infrastructure management on a cloud environment: Serverless.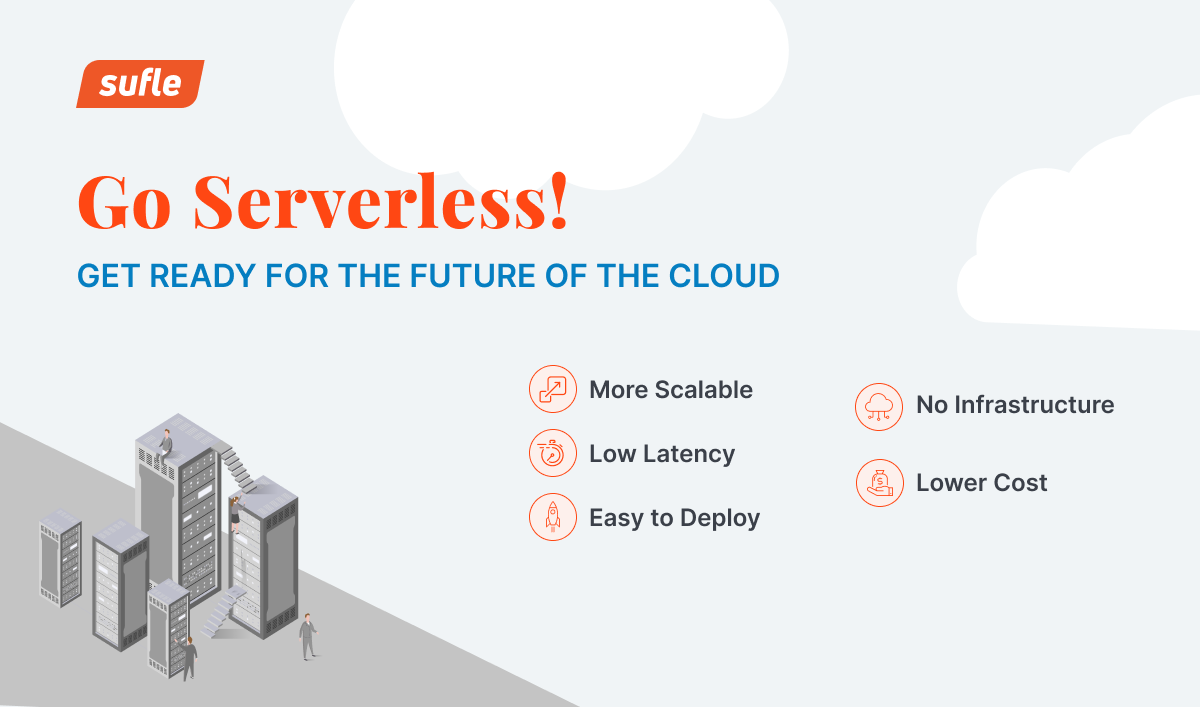 Improving your cloud architecture to serverless technologies gives you the ability to build and run applications without thinking about servers. If you want to get ready for the future of cloud today you should leave infrastructure management to your cloud provider, reduce cost, and increase agility through serverless with integrated tools.
Here is an infographic that explains significant points of managing infrastructure in cloud journey, reasons and advantages of serverless infrastructures.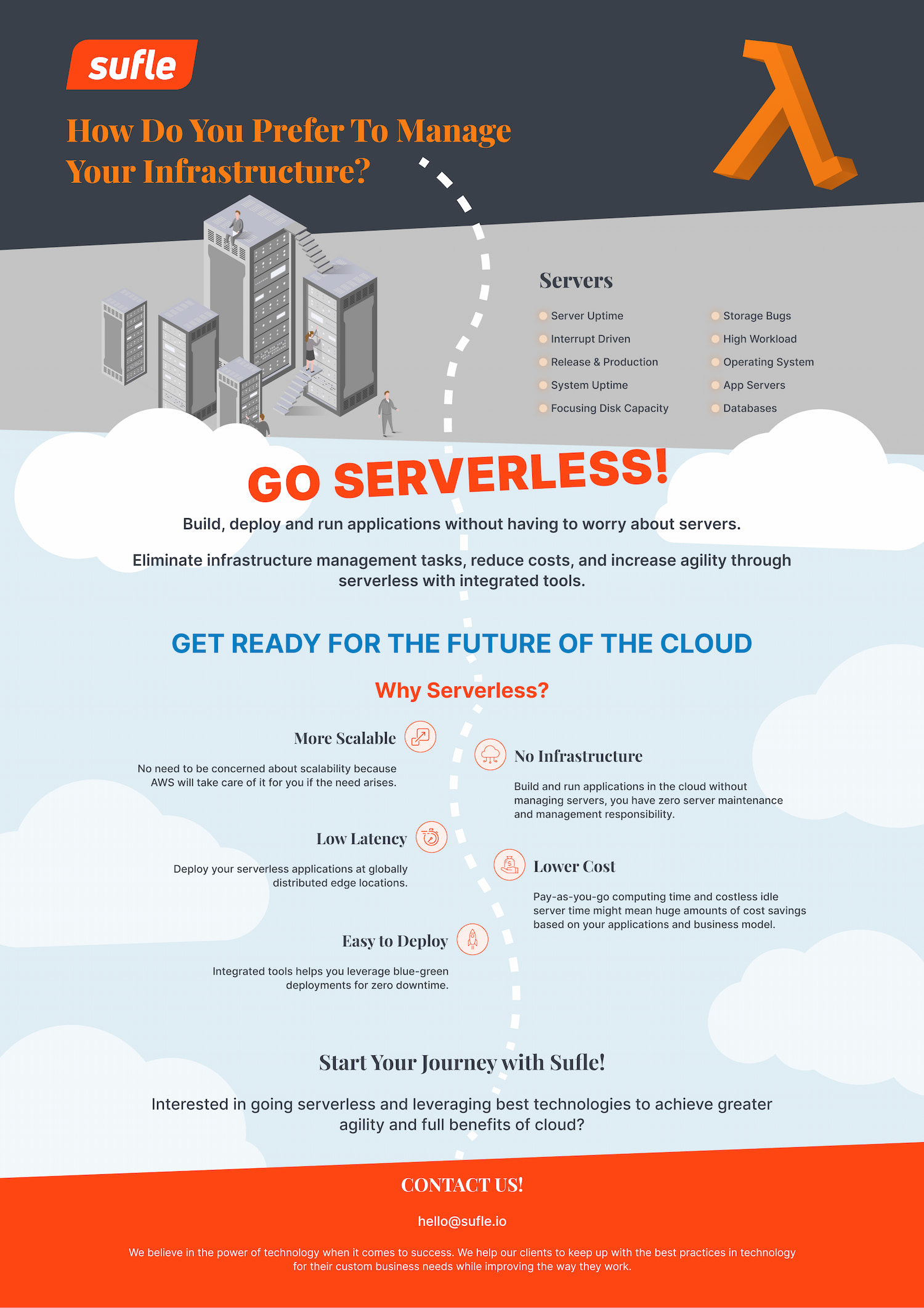 As you can see in the infographic you can get ready for the future of cloud with a successful infrastructure management. With serverless technologies, you can have a more scalable cloud environment at a lower cost without thinking about server uptime, system interruptions, capacity, and workload. At that point, as a keystone of the cloud environment, serverless architecture helps to develop continuous success and change your mindset about managing an infrastructure. There is no need for ancient management tools and time-consuming methods anymore. :)
Building A Chain Step by Step
You may not have met the cloud world before and want to move your workload to the cloud. Apart from these you may want to compare your current infrastructure with the cloud and see your needs to become stronger. You do not need to be an expert to succeed in any of these. It is easier than you think to create a chain from scratch and to meet these technologies even if you do not have a deep background in cloud.
Your business can benefit from cloud technologies for sure, but what does this mean for your staff and operating model? So let's see how you can build your Cloud Enablement Engine on your organization. On the CEE: Practical Guide prepared by Amazon Web Services, they suggest five important steps that you need to take:
Build the team: You will need a team of cloud enthusiasts who will evangelize cloud technologies, cloud-way of doing and spread the know-how in your organization
Train and coach: You should not shut anyone out and be inclusive for all of the members of the organization by enabling them through learning paths and training.
Pilot projects: The best way to learn is keeping your hands dirty, so create a playground environment, pick a project and start experimenting.
Architect for the cloud: After you know how you can accomplish your challenge on a cloud environment, you should start naming standards and build up controls for this brand new platform.
Operate in the cloud: Now you are rocking on the cloud, everything as it should be; it is time for the operations, you will create monitoring, alerting, notifications, reporting, tracking, auditing, deployment systems.
There is also a sixt step that you will not complete obviously because it is called "Continues Improvement". After accomplishing five steps, you will already know that this is a never ending story and always open for improvement.
Each company has different needs and infrastructures to have continuous success for their businesses. Take action now to learn deeply about your needs and the improvements you can implement, share our cloud perspectives, and reach the top even at zero!
If you want to learn more about cloud benefits and how you can transform your business with the power of the cloud,
Book an Appointment
and meet with our world-class engineering services.